online-only publishing
As a not-for-profit publisher, the International Union of Crystallography has always considered ways to improve the efficiency of its business and, in turn, reduce its environmental impact.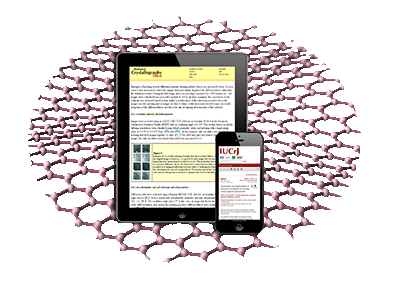 In 2014, the IUCr addressed both these issues by moving to online-only publication for all its journals.
The IUCr is not new to online publishing; approximately 50 years after the IUCr Journals began publication, the IUCr entered online publishing with "cif-access" papers in Acta Cryst. C. The success of these papers was followed by the launch of online versions of all the journals in Crystallography Journals Online in 1999. All back issues of the journals published since 1948 were soon made available via an impressive digitization project. Online-only journals Acta Cryst. E and Acta Cryst. F followed in 2001 and 2005 and since 2014 all IUCr journals have been online only.
The cessation of printing has meant that the publication process can be made more efficient and publication times reduced. The process has been made greener by eliminating the unwanted effects that printing and shipping have on the environment.
As part of online-only publishing, we will continue to improve our journals website by introducing new features such as the smoother integration of supporting information, improved searching, linking, more covers and improved functionality.
The change to online-only publication coincided with the International Year of Crystallography 2014, when the focus was on how crystallography affects all our lives, past, present and future. We hope that the change has helped crystallography to reach many more people worldwide.